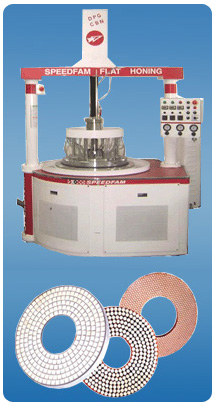 Precision Grinding Machines Systems Technology provides rapid stock removal and precision flat surface machining capability for processing a wide range of hard surfaced materials using either Diamond Pellet or CBN Pellet Plates.

Precision Grinding Machines Systems are designed for Efficient Control On Rz, Eco Friendly Fine Honed Sludge and High Stock Removal Rate @ Low CPP.

Precision Grinding Machines is equipped with distinctive features like High Pressure Pneumatic System which ensures precise pressure application for optimum stock removal and increased productivity.

Variable Speed Drive System that ensures Selectable RPM to the wheels individually for all applications.

The system is also equipped with Motorized forward Reverse System which maintains the plate flatness in process without any production loss, by controlling the RPM & direction of rotation of the carriers.