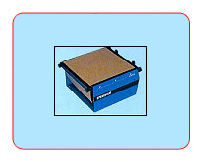 The Speedfam polishing flat provides the fast, easy and effective way to achieve micro inch polish specifications. It is designed for
1. Obtaining the surface brightness needed for optical measurement of piece part.
2. Experimental polishing.
3. Short run production polishing.

Operation of the Speedfam polish flat is simple and positive. Pieces or parts are placed flat on the polishing surface & then rubed gently in a prescribed manner. The result is superfine polishing with no appreciable stock removed, no danger of having rounded edges. The polishing paper is fed through the spindle mounted roll and is rolled manually to as the new surface of the paper to appear. The polish flat is maintenance free.
---
Specification :
width:14", Depth:15", Height:71/2", Weight:20 kg.